April 15, 2020
Sharbreon Plummer receives 2020 Manuel Barkan Fellowship Award
Image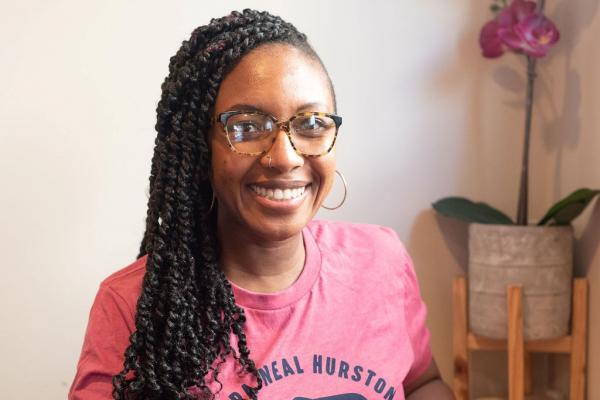 Description
The Manuel Barkan Fellowship was established in 1995 in the name of the first chair of the department by his wife, Toby Barkan Willits. This competitive award supports the academic and living expenses of a doctoral candidate in Art Education who is completing his/her dissertation. This years recipient of the Manuel Barkan Fellowship Award is PhD candidate Sharbreon Plummer who successfully defended her dissertation, Haptic Memory: Resituating Black Women's Lived Experience in Fiber Art Narratives, on April 3, 2020.
Typically the recipient is honored at the annual Barkan & Marantz Award Ceremony in late March/early April. Unfortunately, given the current pandemic, AAEP was unable to hold the ceremony as normal. Sharbreon has provided AAEP a brief write up describing her research process and dissertation:
"First, I would like to thank AAEP for this amazing award and acknowledgment of my research. Haptic Memory was birthed from my own story of loss and exploration of personal identity. Fiber-related processes (i.e. quilting, needlework, weaving, etc.) have always been of interest to me. However, I found that information related to Black women's use of those techniques was often limited and written from a Eurocentric perspective. My dissertation focuses on filling the voids of previous literature that do not account for the complex relationship that Black women have to fiber and textiles, domestic work and labor in America, and how that, in turn, informs our creativity and artistic practices. Using narrative and arts-based approaches, I collaborated with three amazing Black women artists—Karen Hampton, Carolyn Crump, and Loi Laing— to explore how Black Feminist Thought can be used to more adequately interpret fiber work that was informed by the nuances of Black womanhood. In turn, our interactions allowed me to craft culturally relevant language that can be used for a more equitable interpretation of our work. Furthermore, I used the data collected to craft an emergent theoretical framework and definition of "Black Feminist Material Culture" that I hope to employ in future research."
---