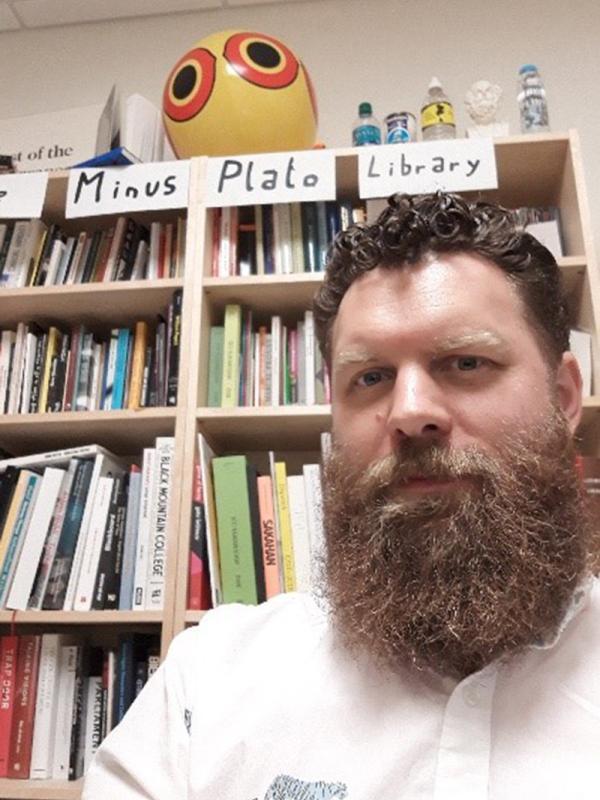 Richard Fletcher
Associate Professor
245D Sullivant Hall
1813 N. High Street
Columbus, OH 43210
Areas of Expertise
Contemporary Art
Philosophy of Art
Decolonial Education
documenta 14
Global Exhibition and Biennial Culture
Creative Classical Reception
Education
2002-2006 PhD in Classics, University of Cambridge
2001-2002 MPhil in Classics, University of Cambridge
1998-2001 BA in Classics, University of Cambridge
Selected Recent Publications and Projects
No Philosopher King: An Everyday Guide to Art and Life under Trump (AC Books 2019) (as Minus Plato) - book based on the blog Minus Plato
'Three Lessons from Twombly's Academy' – book chapter in C. Basualdo (ed.) Cy Twombly: Fifty Days at Iliam. Yale University Press. 48-65.
Our Book to Come (this week, last year) (as Minus Plato) - series of six interactive lectures at CCAD's Beeler Gallery as part of the exhibition How Well Do You Behave? IN THE FLAT FIELD, 02/18-03/18.
'Psychic Life in the Specular City: Narcissus, Rome and the Kristevan Slip' – book chapter in B. DuFallo (ed.) Roman Error: Classical Reception and the Problem of Rome's Flaws. Oxford University Press. 233-254, 2018.
Alarm Clock Academy: A Minus Plato Project about Time and Awakening, (as Minus Plato) - coordinated questionnaire project in collaboration with the Wexner Center for the Arts, 02/18-04/18
'Charles Olson's Second Sophistic: Towards a Post-Beat Poetics' - book chapter in Sheila Murnaghan and Ralph M. Rosen (eds) Hip Sublime: Beat Poets and the Classical Tradition. Ohio State University Press. 252-270, 2018.
Oh Mother Reader, I Can Feel (as Minus Plato) – multi-media installation with OSU students, shown as part of the exhibition Labors: An Exhibition Exploring the Complexities of Motherhood, Pearl Conard Gallery, Ohio State Mansfield Campus, 02/18-03/18.
Review of Jacobus, (M). (2016) Reading Cy Twombly: Poet in Paint – book review for caa.reviews, February 12, 2018. 
'Blood is flowing in Carthage: Simone Weil between Force and Colonialism' – essay in South as a State of Mind #9 (documenta 14 #4) Fall/Winter 2017.
Void Writing – an exhibition by 조은영 – curated exhibition at the Center for Epigraphical and Palaeographical Studies at OSU, April 10-28, 2017.
Come Along With Me – curated exhibition at the Riffe Gallery/Ohio Art League, Columbus, Ohio, January 26-April 15, 2017.
Creative Lives in Classical Antiquity: Poets, Artists and Biography – edited book with Johanna Hanink, Cambridge University Press, 2017.
Hippias Minor or The Art of Cunning – edited book with Paul Chan and Karen Marta, Badlands Unlimited and DESTE Foundation, 2016.