Keep your classmates and the department informed of your promotions, job changes, papers/articles/books written, lectures/seminars given, marriages, children, and any other personal or professional achievements you wish to share with us. We'd love to hear from you! Please email your updates and pictures to pace.162@osu.edu.
Chester E. Gallant (PhD '92) is currently teaching visual arts in north central Ohio via the Mid Ohio Educational Service Center and Pioneer Career School and Technology Center, Shelby, Ohio. Dr. Gallant is a former Executive Director of the Ohio Museums Association and is a board member of the OSU Photography & Cinema Alumni Society. Additionally, he serves as a consultant for grants with the Ohio Expositions Center, State Fair Arts & Crafts division.
Alma Adams (PhD '81). After teaching art at Bennett College in Greensboro, NC, Dr. Adams was elected to the U.S. Congress from North Carolina's 12th district. The New York Times featured Dr. Adams in an article published on February 23, 2015.
Jan Fedorenko - is currently a principal at Hanby Arts Magnet School, an arts integrated school and the Visual Art Curriculum Coordinator for Westerville City Schools, and the Arts Education consultant for the Westerville Arts Council.
In Memorium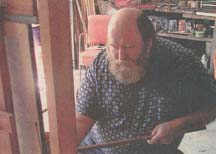 The Department of Art Education remembers alumnus Forest "Woody" Wilson, Jr. and is grateful for his bequest of books, journals, and photographs. Mr. Wilson earned a bachelor's degree in Art Education in 1989 from OSU. Woody said that he was an artist from the time he could pick up a pencil. His friends remember Woody's spirit through his many murals and art projects around the country and especially in hte Marion, Ohio, area. He painted with both children and senior citizens, reminding them that it took more muscles to frown than to smile! According to his friend Dan, he had one of the biggest hearts in the world. The students and faculty in the department will have access to his books to aid them in their research.