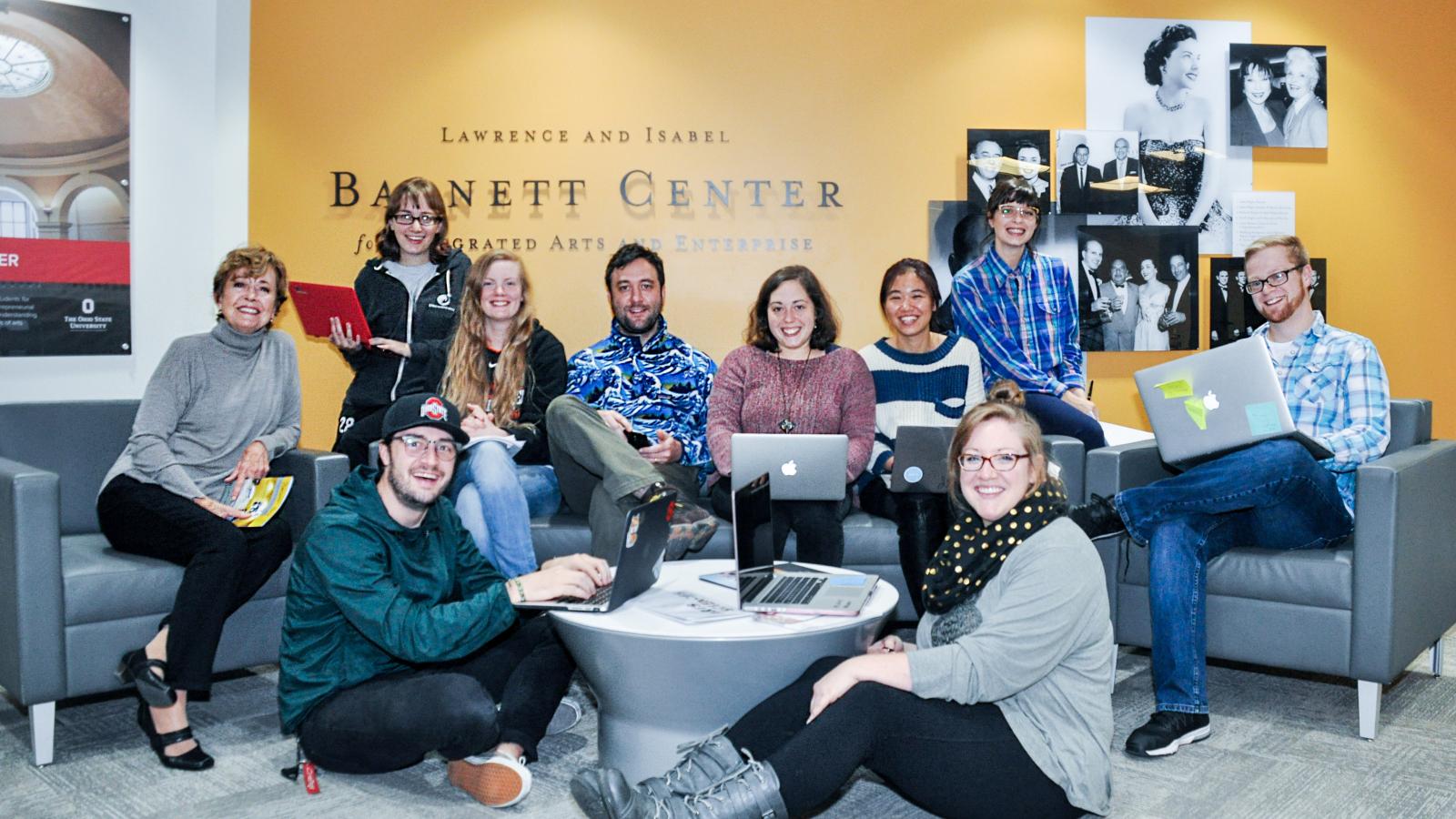 Body
The Arts Policy and Administration programs in AAEP include a BA in Arts Management, a Minor in Arts Entrepreneurship, an MA in Arts Policy and Administration, and a PhD specialization. Arts Policy and Administration at The Ohio State University explores the intersection of arts and culture in policy, planning and administration. Innovative research seeking to support and redefine the positive ways in which the arts impact urban areas through economic development, tourism, and quality of life are explored in dynamic, hands-on classroom environments. Graduates of the Arts Policy and Administration programs become arts administrators in a variety of institutions; lead arts organizations; become arts entrepreneurs; work for government and non-profit institutions; and become faculty scholars at universities.
Learn more about declaring the Arts Management Undergraduate Major or the Arts Entrepreneurship Minor and applying to the Arts Policy and Administration Master Degree program.
The Arts Management major is designed for students planning a career in arts and cultural institutions, arts councils and agencies, or in for-profit arts organizations. The program prepares students professionally through several areas of study: cultural policy, or as agents in public or government support systems for the arts; arts administration, or as leaders and managers in nonprofit presenting and performing organizations; and in arts entrepreneurship, or as individual proprietors of for-profit art organizations
Through the Arts Entrepreneurship minor, students will be able to develop entrepreneurial and managerial skills necessary to succeed as creative individuals in the increasingly complex economic environment of contemporary art-making. Students will attain business acumen and expertise necessary to operate arts and cultural institutions in the specific role of arts administrator. They will exhibit the critical and creative skills needed by policy makers and the knowledge of varied cultural, social, and economic realities impacting contemporary art disciplines, creative sector collaborations, and the role of art in society.
This graduate program is designed to meet a wide range of student interest in the arts and culture sector. You will have the opportunity to gain insight into the academic trajectory in the field as well as preparing for the realities surrounding the world of the arts administrator, creative business proprietor, or cultural policy practitioner. You may choose to follow a variety of options upon graduation:
Manage a cultural nonprofit organization or for-profit arts business
Start your own creative enterprise
Navigate the complexity of government support of the arts as a policy specialist
Make the case for arts and culture as a key aspect of economic and social benefit to cities and regions worldwide through a global consulting
The Cultural Policy and Arts Management specialization is available to students enrolled in the Arts Administration, Education and Policy PhD program. This area of the study is more nuanced than the general arts administration trajectory. This specialty program offers the opportunity to understand the variety of approaches to fostering creative people and places, as well as the multiple facets and points of view in policy formation serving arts and culture in society today. By focusing on a broad examination of cases internationally, students will gain an understanding of key issues that are similar across a variety of contexts.