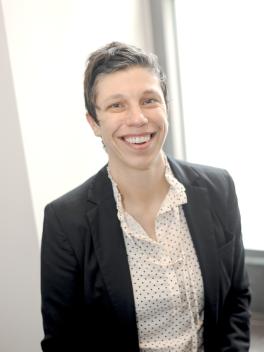 Erin Hoppe, The Ohio State University
Erin J. Hoppe is passionate about lifelong learning, breaking down barriers to participation in the creative sector, and mentoring arts leaders. She is an advocate, researcher, administrator, educator, patron, and maker. Hoppe is currently a fourth year Ph.D. student and Graduate Teaching Associate. She worked as an arts administrator for 15+ years, which informs her interest in accessibility, professional development, and practitioner identities. Hoppe was the executive director of VSA Ohio, a statewide nonprofit arts and disability service organization, and held support positions at The John F. Kennedy Center for the Performing Arts, Smithsonian Institution, and National Endowment for the Arts. As an educator, Hoppe has taught under/graduate students and led professional development workshops for practitioners about theories and better practices in arts administration. Hoppe is an executive board member for the Columbus Arts Marketing Association, Certified Tourism Ambassador, and an avid bird watcher. 
Dissertation Title: Creative space makers: Artful insights from the embodied and creative experiences of arts administrators 
Abstract
How do the embodied experiences of arts administrators affect the practice, policy, and field of arts administration? What role does creativity play in the lives of arts administrators? What can queer theory teach us about arts administration and its professionals? What political stakes can we claim by linking the corporeal and systemic? These primary and secondary questions drove my qualitative critical arts-based inquiry with calls by practitioners for improved working conditions. The field lacks empirical knowledge about practitioner lives and their perspectives on being creative in a creative field, and mostly omits arts-based and critical social theories in arts administration scholarship. Rhizomatic relations between these issues may tell us more about the field's ontologies and epistemologies, with social justice goals to improve the well-being of individuals and institutions. Research methods included iterative interviews (getting to know you, walk and talk, make and talk), self-reflexivity, a call for art/ifacts, and policy excavations. Traditional and artful analytic strategies create multi-vocal and multi-media findings which bring forth experiences, contexts, frictions, silences, and more questions. 
---
Elham Hajesmaeili, Pennsylvania State University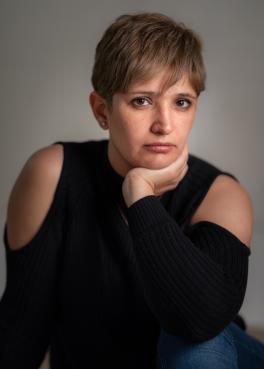 Elham Hajesmaeili is an artist-researcher and art educator in Central Pennsylvania. She received a BFA in Handicrafts from Shiraz University, Iran, in 2006, an MA in Art Studies from the University of Art, Tehran, Iran, in 2010, and an MFA in Painting and Drawing from the Pennsylvania State University, US, in 2017. She has held multiple group and solo exhibitions in Iran and the United States. Currently, she is a dual-titled Ph.D. candidate in Art Education and Women's, Gender, & Sexuality Studies at the Pennsylvania State University. Her teaching experiences in two geographical contexts shape her understanding of feminist pedagogy as a relational concept that must be acknowledged and practiced to make the classroom a constructive environment where learning is a mutually rewarding experience. 
Dissertation Title: Feminist Arts-Based Research Methodology: Augmented Reality (AR.) Portrait Painting in Dialogue with Iranian Women Migrated to the United States
Abstract
Elham's research focuses on developing a feminist arts-based research methodology in which she explores how Augmented Reality (AR) portrait painting is translated and conceptualized from interviews with Iranian immigrant women living in the United States and how AR portrait painting could contribute to the development of arts-based research methodologies. Utilizing AR as juxtaposition and overlay strategies provides different analytic potentials, including multimedia presentation of the information, accessing invisible visualities by mixing virtual and real-world elements, and dynamic and aesthetic interactivity. These potentials will enable insights from interviews with research participants. She utilizes art (painting) and technology (AR) as methodological facilitators to mutually articulate the subjectivities of the research participants and their relationships and dialogues with the researcher and viewer. The research question is how portraiture and AR technologies might be developed as an embodied arts-based research methodology to contextualize data, offer analytic insights, and align methodology with visualization of findings.
---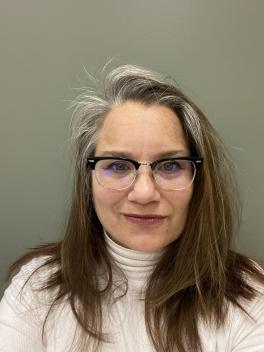 Melissa Leaym-Fernandez, Pennsylvania State University
Melissa Leaym-Fernandez, Ph.D. candidate at Penn State, as a victim-survivor-thriver unapologetically works as a painter, educator, parent, partner, and researcher in communities around the globe. Leaym-Fernandez's research concerns creative processes of women of color with Adverse Childhood Experiences (ACE). She works to help teens use artmaking to enact agency and learn the power of artistic practices. Additionally, she researches gender representations and visual Modernities within East and South Asian television and music media markets. Critically examining encharactered costume transformation, binary gender roles as a tool of social oppression, and contextual presentation of emotion to work toward equitable changes in visual presentation of gender in media.
Dissertation Title: A Study of How Three Women Find Empowerment through Art after Adverse Childhood Experiences 
Abstract
As a survivor of adverse childhood experiences, or ACEs, I study what other women of color artists do to sustain empowerment in their personal and professional lives. Exploring historical, educational, and cultural influences in the lives of participants, I sought to learn how participants overcome and manage outcomes of ACEs through creative means, how participants define and sustain empowerment in their lives, and how participants sustain their artistic vision. Outcomes of the study led to the discovery of The Four Loves through contact with what I call singularity influencers. Singularity influencers are people who connect with traumatized folks during intense moments of love, which manifest as family support, passionate teaching, skill building moments, and/or various acts of self and community protection throughout a traumatized person's life with a goal of systemic transformation. My study found not only were participants able to benefit from singularity influencers as they developed and overcome outcomes, but participants themselves became singularity influencer exemplars in their various communities by enacting The Four Loves for others. My study adds to the overwhelmingly incomplete body of research within art education outside of clinical arts therapy research regarding effectiveness of artmaking processes with creative women of color ACE survivors.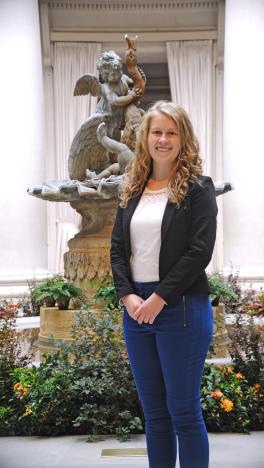 D. Elizabeth Healey, Pennsylvania State University 
D. Elizabeth Healey, commonly referred to as Izzy, is originally from Salt Lake City. She studied Elementary Education and English Language Learner education at the University of Utah for her Bachelors. She studied at Ohio State for her masters in Art Education and Museum Education. While there, her thesis used Arts-Based Research and Auto-Ethnography using quilting to study five generations of women in her family to analyze how we can better understand our individual and cultural identity through learning about our ancestors. While at Penn State she has studied Art Education and Latino/a Studies. Her dissertation research brings together many of her passions: education theory and pedagogy, storytelling, immigrant communities and the arts. She began teaching as Assistant Professor of Art Education at Utah Valley University this Fall 2022 while she wraps up her dissertation and Ph.D. responsibilities at Penn State. 
Dissertation Title: Transformando Saber a Conocer: Digital Storytelling as Testimonio and Culturally Sustaining Pedagogy for 1.5 and 2nd Generation Latinas  
Abstract
Through my research, Izzy examines the potential uses of personal storytelling, sharing, and multimedia videomaking in a communal workshop format as an asset-based pedagogical tool that can seek to sustain cultural identity and community heritage and practices among immigrant communities. Through incorporating Django Paris and H. Samy Alim's Culturally Sustaining Pedagogy and a LatCrit lens, Izzy examines how the use of personal storytelling through multimedia videos in a group setting acts as a pedagogical tool and through the process of sharing creates individual and collective testimonios of Latina experiences. The testimonios shared highlight the varied and nuanced experiences of 1.5 and 2nd generation Latina immigrants in the U.S. and reinforce the significance their perspectives bring and should have within educational theory and pedagogy as well as classroom practice.  
---
Molly Burke, The Ohio State University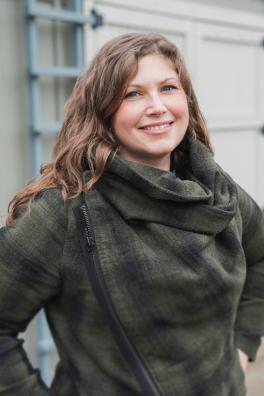 Molly Jo Burke, b. 1984, is an Ohio based artist, educator, and researcher; with each practice overlapping.  Her artwork focuses on the complexities and pressures of modern life and observation of our environment both natural and built, through the use of traditional and non-traditional art materials. Her academic research is focused on fine artists, arts entrepreneurship, the challenges and how policy impacts their careers. Burke received her BFA in 2006 from Columbus College of Art & Design (CCAD), MFA in glass sculpture in 2009 from The Ohio State University (OSU), and in 2019 she accepted the Barnett Fellowship from OSU's Arts Administration, Education, and Policy Program to pursue her P.hD. She has taught at OSU, CCAD, and Corning Museum of Glass. Her artwork has been featured nationally and internationally, most recently at Toledo Museum of Art, Illinois Wesleyan University, Columbus Museum of Art, and the Centre Pompidou in Paris, France. 
Dissertation Title: Women in Glass: A portraiture study on female identifying artists who utilize glass
Abstract
Utilizing Portraiture Methodology, this study focuses on female-identifying glass artists from emerging to established in their careers. The contemporary glass world is a place of diverse making that ranges from fine art, to design, to craft. Artists in the field oscillate from highly educated individuals with Master of Fine Art Degrees to those who are "self taught," trained through apprenticeships, and piecemeal educational experiences. This study seeks to understand how female glass artists define and chart a trajectory to achieve a sustainable and successful career, even as they face challenges associated with societal barriers limiting opportunity, and the high cost of education, equipment, and facility access.  
Data is gathered through semi-structured qualitative interviews, participant observation, and field notes to understand the challenges and successes they have experienced. Their stories are cross referenced with descriptive quantitative data taken from the institutions they have interacted with as artists, students, and/or educators. I use flexible coding and narrative analysis to find emergent themes that are examined through a critical feminist theory lens to provide insight into the field and how female-identifying glass artists have been working within its limitations.  
---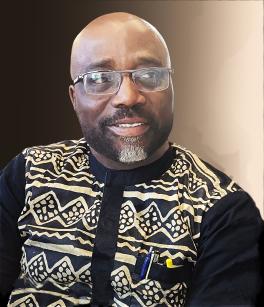 Adéwálé Adénlé, The Ohio State University
Adéwálé Adénlé's research connects his Yorùbá ancestry with his artistic background and academic studies in painting and museum education, to interrogate Western modes of articulating the intricate nuances in African traditional-religious objects. Focusing on Yorùbá objects as models, he is proposing a novel paradigm for the interpretation and preservation of non-Western spiritual and anthropological patrimonies in American museums. In the last 20 years, Adéwálé has exhibited his work on three continents and taught in universities and K-12 programs in the U.S. Between 1986 and 2002, he was a political cartoonist/art editor with various newspapers in Nigeria, the U.S and U.K., culminating in his winning the 2000 Reuters News Graphic fellowship in London. Adéwálé was also the recipient of the 2021 Robert and Phyllis Iles Award from the Center for the Study of Religion at OSU. His public commissions include a 13ft. x 8ft. bronze sculpture entitled Congo Square (2010), installed in Louis Armstrong Park, New Orleans. Adéwálé is a current Ph.D. candidate in the Department of Arts Administration, Education and Policy at The Ohio State University. 
Dissertation Title: Between the Spirit and the Spectacle: Re/Contextualizing Yorùbá Spiritual Objects in American Art Museums
Abstract
Interpretive paradigms utilized in American museums, particularly to Yorùbá traditional objects and performances, suppress the depth of their ethnographic and spiritual contexts. They instead emphasize the spectacle of their tangible features, iconographies, and dominant historical narrative. Muzzled within these Western aesthetic signifiers and varied contemporary educational/museological philosophies and approaches, indigenous Yorùbá spiritual objects and performances present inimitable challenges to authentic experience in American art museums. In Yorùbá traditional and spiritual-culture, artistic creation is a construct of and from continued consultations with varied deities relevant to the desired functions of the work. A connection to the divine is inherently essential, recognized, and observed in selecting the organic materials applied to creating these objects. Consequently, their continuous liturgical veneration becomes their indigenous interpretive process and practice. This research, grounded in Indigenous-Phenomenological methodology, finds substance in my lived experiences within and outside the Yorùbá culture and religion; reflections by indigenous voices from field studies; interactions with museum professionals; and the elucidation of deference and contrast to previously published scholarly work, to propose a novel framework for responsive Representation—Interpretation—Preservation (RIP) of traditional and religious Yorùbá objects and performances in American art museums.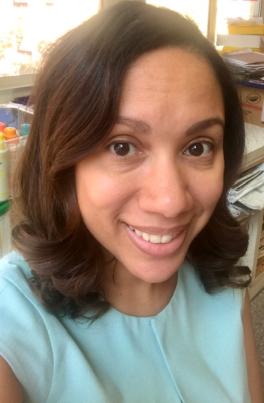 Carmen Gomez, Teachers College, Columbia University
Carmen Gomez is a certified art teacher at an elementary school in New York City. She has been teaching art for two decades. She is a doctoral student at Teachers College in the Art Education program. She holds an MA in Art Education, and MS degree in Teaching English to Speakers of Other Languages. Carmen worked her way up from substitute teaching for the Department of Education to art educator. Her students have exhibited artwork at PS. Art 2020, 2021, Manhattan Borough Art Festival, and The Morgan Library. She is passionate about nurturing creativity in students.  Carmen's research focuses on aesthetic education; however, she is also interested in language, art and how it impacts students in the  art classroom. Carmen has a teenage son and enjoys reading in her free time. Her artistic interests are watercolor painting and piano.
Dissertation Title: The Transformation of Inner Experiences to Outer Expressive Forms: The Role of Aesthetic Perception, Imagination and Emotions, in Students' Artistic Experiences 
Abstract
This paper looks at aesthetic education as a neglected area of art education and tries to highlight the importance of the aesthetic in education. The author draws on the ideas of John Dewey, Herbert Read, Maxine Greene, Thomas Munro and Stanley S. Madeja to make the argument for aesthetic education in elementary schools.  In the past, the teaching of visual arts has focused on the art making aspect of the artistic process. Aesthetic perception is also part of the artistic process but it is often overlooked.  The researcher designed a study with the aim of  looking  into the aesthetic dimension in the teaching of visual arts. Inspired by the CEMREL Aesthetic Education Program, the researcher created a curriculum which targets aesthetics in the physical world and engages students to connect with their senses. The lessons  seek to promote aesthetic perception, imagination, and awareness of emotions in students. In addition, there is a focus on art materials and the role they play in making the bridge between the inner and outer experiences of students. 
---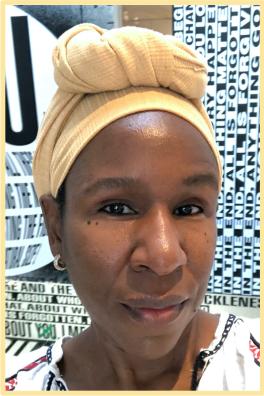 Stephanie Jenn Boggs, Teachers College, Columbia University 
Stephanie Jenn Boggs is an Ed.D. student at Teachers College, Columbia University and is a proud graduate of Howard University and The New School, receiving her BFA and MFA, respectively. Additionally, Stephanie attended the British Academy of the Dramatic Arts, hosted by The Juilliard School. She is an Assistant Professor at Adelphi University and an adjunct instructor at The School of Visual Arts. Stephanie has lectured at numerous conferences, including Do No Harm: The Care We Show Our Students When Exploring Race, at the 2022 NAEA Conference. Publications include contributing to the educational guide Teaching the Harlem Renaissance in the 21st Century: Harlem Renaissance and the Threading of Meaning (2021). Stephanie is also the recent recipient of two grants, the 2022 Dean's Fund for Curriculum Innovation, Research, and Grants from Adelphi University and the Artistic Dialogue Across Disciplines Grant from Columbia University Teachers College.
Dissertation Title: Blacks in the Arts: Blackness in Popular Visual Culture
Abstract
In light of the gap in our knowledge regarding the need to have constructive discourse about Race in art education at the college level and how issues surrounding racial stereotyping can focus on this essentially and constructively, we can apply relevant Race-related concepts to the field. Stephanie proposes a qualitative mixed-methods study to explore racial stereotyping in popular visual culture. This research will investigate the degree to which past depictions of Black people in popular American visual culture and racial capitalism influenced enduring stereotypical depictions of Black men, women, and the community by asking participants to view and respond to a curated exhibition designed explicitly by the researcher. The research design will consist of three parts-1) contextual analyses, 2) a curated exhibition, and 3) participatory action research.
---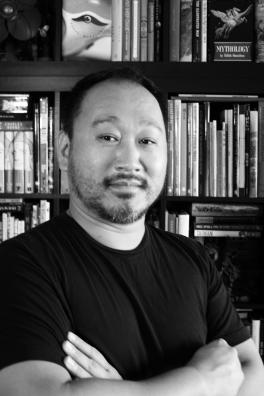 Larry Tung, Teachers College, Columbia University 
Larry Tung is a documentary filmmaker and media educator in New York City. He teaches media arts in the Department of Performing and Fine Arts at York College/CUNY and teaches courses in speech communication and communications technology. Before York, he taught media courses at Kean University in New Jersey for 11 years. A native of Taiwan, he holds an M.F.A. in TV Production from Brooklyn College and an M.S. in journalism from Columbia University. He received several fellowships, including the Vanderbilt University Media Fellowship, and the Academy of Television Arts and Sciences Faculty Fellowship. Tung's films focus on social justice and human rights issues. They have been featured in more than 70 film festivals around the world.  Tung is currently and Ed.D. candidate at Teachers College, Columbia University.
Dissertation Title: Representations of East Asian Americans on Television 2010 and beyond: An Educational Documentary for media literacy 
Abstract
The media has a profound impact on people and can create the illusion of reality. East Asian Americans are often significantly under-represented in American media culture. From model minority (Kawai, 2005; Deo et al., 2008) to perpetual foreigners (Chin et al., 2017), the portrayals are often one-dimensional and not an authentic representation of their complexities. But in recent years, more television networks and independent production houses are filling the void/gap as many have cast Asian actors and written stories about the Asian American experience. But there is still much work to be done. This research will consist of contextual analysis of selected television series beyond the 2000s and interviews with Asian American media professionals. It seeks to reveal the trajectory of change in portrayals of East Asian Americans and hopes to offer educational implications for multicultural students' development of social, cultural, and media literacies.