Since spring 2021, Tamryn McDermott has been a student curator for the Kawsay Ukhunchay: Andean and Amazonian Indigenous Art and Cultural Artifacts Research Collection. In the fall of 2022, curators worked in collaboration with Ohio State Multimedia Journalism Lecturer, Leonardo  Carrizo, to install an exhibition of his photography titled, Dancing with Devils: Latin American Mask Traditions. The exhibition is installed within the  Barnett Center Collaboratory for the full academic year, which provides opportunities for classes and events across the university to engage with this dynamic and inspiring work. The exhibition also includes diablada masks from the Kawsay Uknunchay collection that were donated by alumnus Mark Gordon who collected the masks from a variety of Latin American countries.
As the instructor of an Introduction to Art Education course Autumn semester, Tamryn designed a workshop in the space to engage her students with the creative and cultural knowledge embedded within the photographs and masks. Students explored the exhibition, focused on raising questions and curiosities, and worked collaboratively in small groups to design hypothetical professional development activities for K–12 teachers.  This was a valuable opportunity for students to put what they were reading about in class into practice within the context of an exhibition. Learning about Indigenous artists and festival experiences through stories, photographs, and festival objects provided an intimate look at these artists and  performers. Students reflected on their experiences in visual journals by sketching, making observations, and raising questions about what they  experienced within the exhibition.
EXPLORING EXPERIENCE THROUGH ART MAKING IN ACCAD'S MOTION LAB
In autumn 2022, Tamryn McDermott, third-year PhD candidate in art education, introduced her Introduction to Art Education students to the possibilities of collective reflection within the Advanced Computing Center for Arts and Design (ACCAD) motion lab. Students participated in an iterative process consisting of three visits to the lab which were integrated into the course structure.
The motion lab visits were designed as three distinct but connected experiences: 1) an introduction to the lab and possibilities with movement, space, lighting, live-feed projection, and sound, 2) an instructor-designed experience which immersed students in reflection and envisioning through drawing, observation, and interaction, and 3) a culminating experience that was student-designed and built on their previous two experiences within the space. As students began to  design the third experience in the motion lab, they worked together to design structures and prompts promoting collaboration and reflection. They used motion lab floorplans, reflective videos, and discussion groups to share and make decisions about the atmosphere and structure of the experience. Ultimately, students installed four artmaking stations in the motion lab that encouraged play, reflection, collaboration, and openness to experimentation. They documented their experiences through visual journaling, open dialogue and use of a live capture video projection. Classroom experiences encourage connection, dialogue, reflection  and engage multiple senses.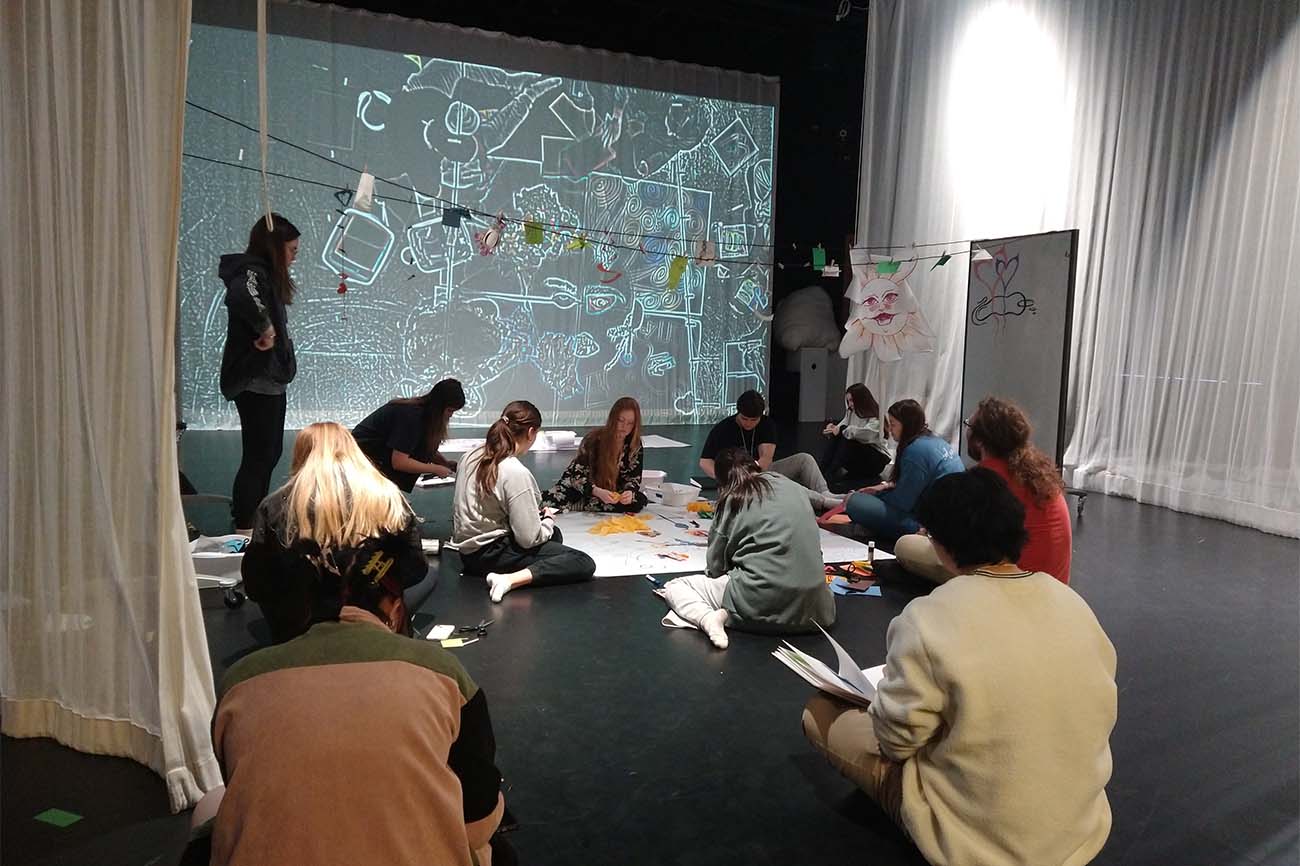 ---