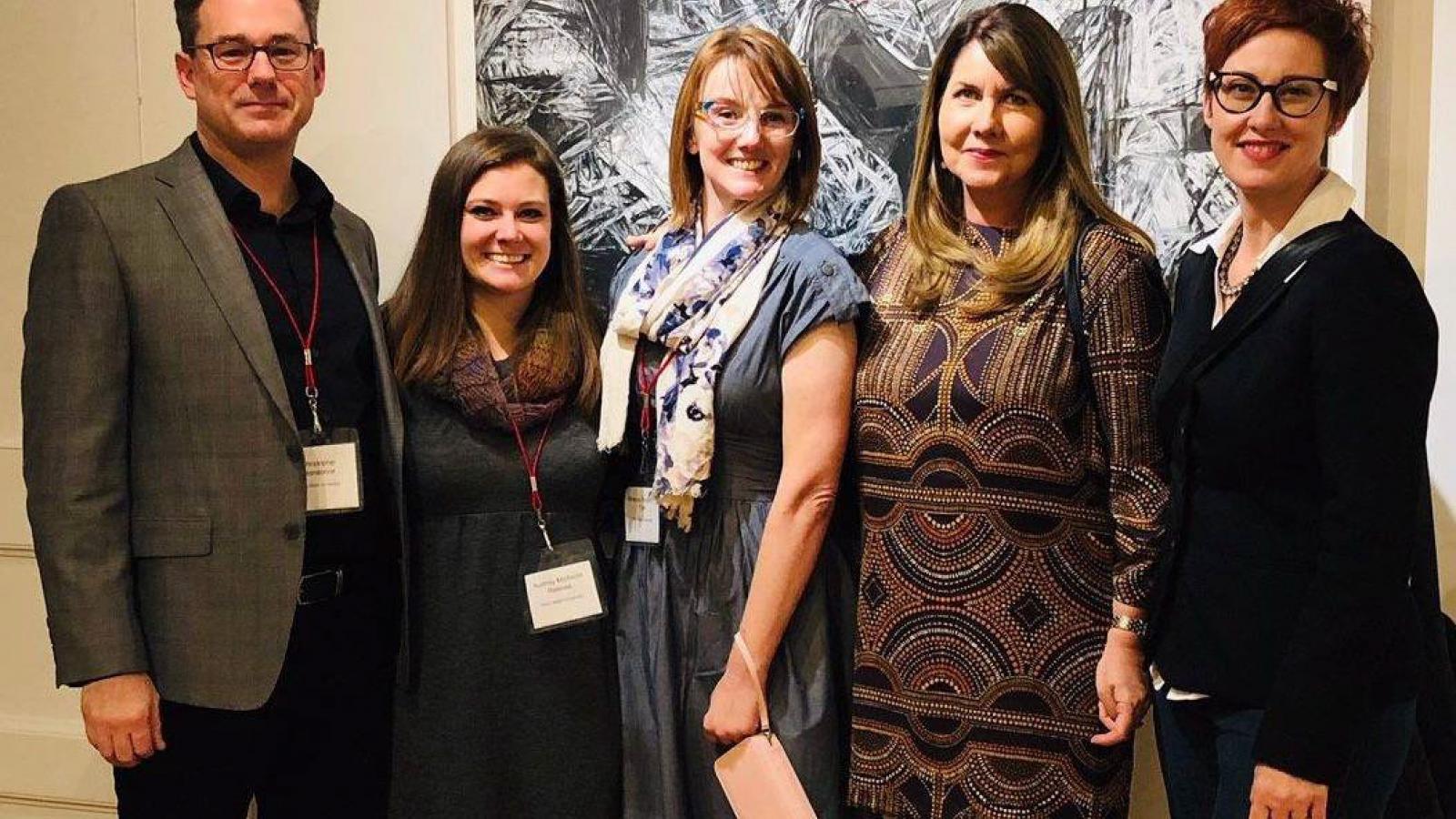 Body
Compassion Fatigue: Stories/Artworks of an Art Teacher with a Trauma-Informed Pedagogy
By Audrey Reeves
I am thankful for the opportunity to have represented OSU at the Graduate Research in Art Education conference, this year hosted by the Teachers College, alongside my superstar colleagues Rebecca Turk and Chris Jeansonne. I was enthusiastic to share the progress of my research then, and am thrilled to share again for the Barnett Center Idea Spotlight!
What brought me to my research initially was an issue I ran into while teaching our department's undergraduate art education course Visual Culture: Investigating Diversity and Social Justice. Especially after creating strong relationships with students, I found that meaningful and personally relevant art lessons led to students sharing stories of trauma, such struggle with bisexual identity, a parent dying from cancer, battles with anorexia, and stories of poverty and racism. In my seven years of previous training in art education, I was never prepared with how to handle student trauma or taught the skills to take care of myself and cope with student trauma.
I then connected with Rachel Rowen, an alumna of AAEP's bachelor and master's art education program. She has been doing powerful work in Columbus schools for 13 years, currently teaching middle school art and leading her school's professional development in trauma-informed practices. She has experienced compassion fatigue as well, as her students deal with trauma such as poverty, unsafe circumstances, homelessness, parents with disabilities, bullying, single-parent homes, and sexual abuse.
Through a critical pedagogist and post-structuralism lens, I interviewed and exchanged stories with her. To represent her voice, I turned each interview question response into a participant-voiced poem, and responded with a researcher-voiced poem. To demonstrate student trauma and resonate with teacher readers, I created four short stories written from the perspective of the students. Each story was created using a combination of students' true stories, my own experiences, experiences of colleagues, and fiction to conceal the students' identities. Finally, Rachel and I are creating a collaborative artwork, a hanging wire mobile inspired by Alexander Calder, demonstrating compassion fatigue visually. One side of the mobile has hanging shapes that showcase student artworks in which students shared a secret of a challenge in their life and interpreted them visually. The other side of the mobile showcases shapes of artwork made from myself and Rachel which illustrate strategies of teacher self-care, commenting on the act of balancing student trauma with teacher self-care to avoid teacher fatigue, burnout, and dropout.
At the conference and elsewhere, many teachers have shared with me dreadful stories of challenges they had with student trauma. Trauma perpetuates in this socially divided political climate, for example acts of violence such as deportations and police shootings of people of color and LGBTQ+. Although it is unfortunate that there is such a need for this research, it is exciting that my research can have positive impact, bringing awareness to compassion fatigue and support for empathetic teachers who teach meaningful and empowering art lessons. As teachers, we need to take care of and sustain ourselves to ultimately help students experiencing trauma.
If you want to learn more about Audrey Reeves' research, feel free to contact her at reeves.225@buckeyemail.osu.edu.