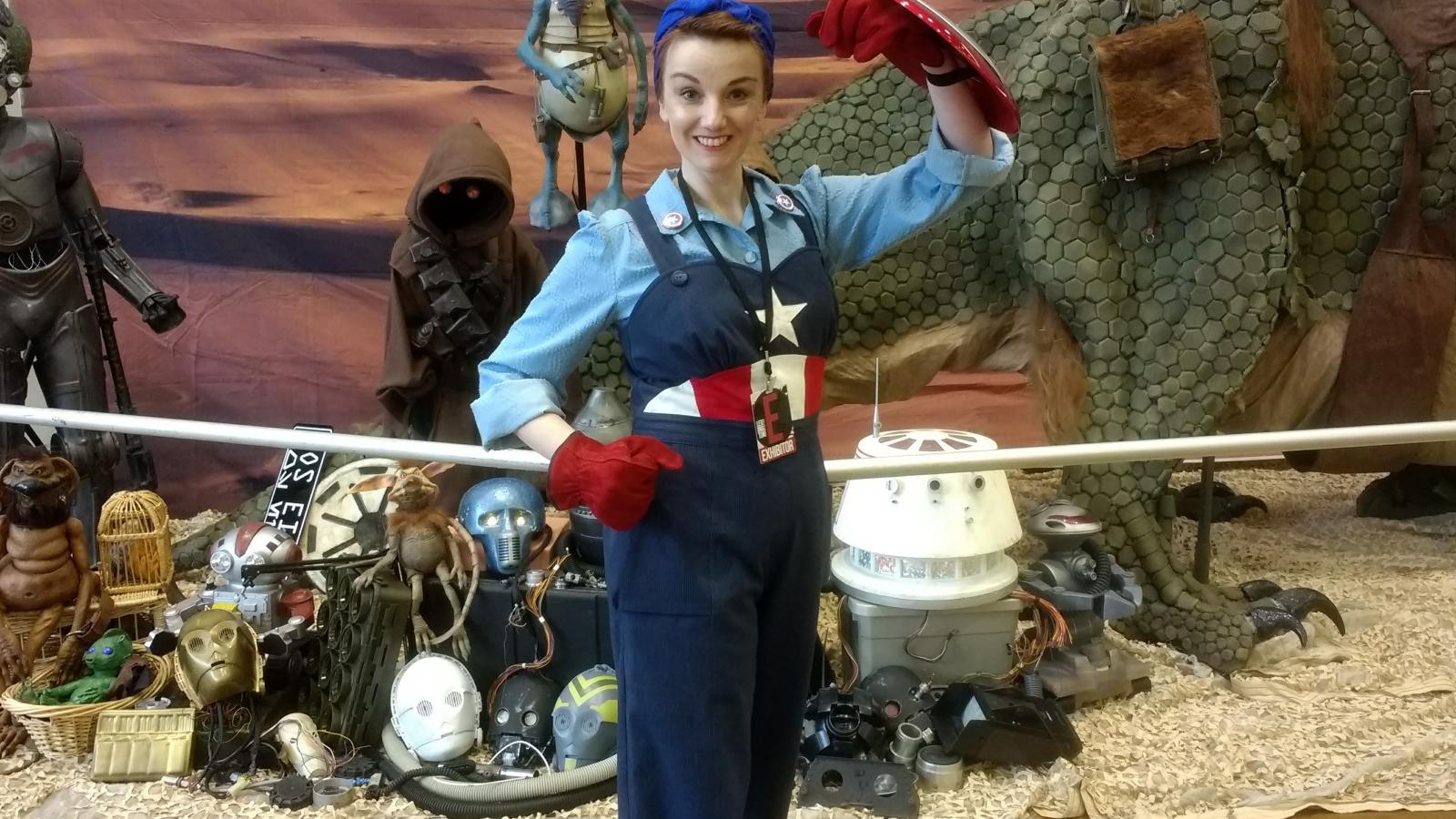 Body
Rebecca Baygents Turk is a PhD alumna who specialized in Art Education and Analysis of Material Culture. During her time in AAEP, Rebecca presented at the Graduate Research in Art Education conference (GRAE) hosted by Teachers College.
Rebecca presented her dissertation research Costuming as Inquiry: An exploration of Women in Gender-Bending Cosplay Through Practice & Material Culture at the Graduate Research in Art Education Conference 2018 hosted by Columbia University's Teachers' College in New York this fall. Artifacts of her study were included in Behind the Seams: The Art and Craft of Adaptation in Costuming, a joint exhibition with Theatre Design graduate student Julianne Nogar at Hopkins Hall Gallery as part of their Summer Series that features works from graduate students at The Ohio State University.
Costuming as Inquiry explores the phenomenon of gender-bending cosplay (GBC) through its material culture using costuming (the acts of making and wearing artifacts and the artifacts themselves) to examine the motivations/interests/expectations of women who participate. GBC embraces the shifting, or bending, of the identified gender and/or biological sex of a fictional character to match the gender identity and/or biological sex of the player. The study concentrates on self-identified women adapting male characters to female versions of the same characters. The principal approach of the research design is Practice as Research (PaR) from an Art-Based Research (ABR) paradigm. Research methods include costuming, performance, ethnography, narrative inquiry, interviewing, participant observation, and discourse analysis. The worlds of text and image are melded in the amphibious, mixed-methods design and presentations of this study. GBC involves creating and using material culture, the artifacts of a culture/community. It becomes a creative outlet for many who may not otherwise be making art. When material culture can be worn, an interactive embodied performance can be experienced between the maker and the player, the player and the artifacts, the player and the audience, the player and fellow players, the player and cultural texts. This performance simultaneously emphasizes and challenges gender binaries, gender roles, and expectations. It is a performance of culture. The communities of play collaborate to interpret and reinterpret the performance and the material culture. They tell and share stories that uncover insights into the phenomenon, society, and culture.
As an art and craft that is used in the telling and showing of stories and the creation of an embodied character, costuming practice reaches facets of multiple disciplines across curricula. Costuming can help students build connections between academic subjects and foster understanding of concepts through practical applications. Following the completion of her degree, Rebecca plans to focus on a research agenda that considers the intersections of play, identity, material, education, community, and collaboration.
If you want to hear more about Rebecca Baygents Turk's research, contact Rebecca directly at turk.234@osu.edu.